Welcome to Full Mutuality! This new podcast explores the inequalities that run rampant through society and seeks to envision ways to fight for true equity. Listen to new episodes on fullmutuality.com and follow us on Facebook and WordPress for our written content.
Related Episodes
May 17, 2022
x
15
01:27:48
120.59 MB
Kayla Felten, Co-Founder of the Reclamation Collective, joins Nate and Gail to discuss her work in religious trauma, spiritual abuse, and adverse religious experiences, and to talk about reclaiming and rediscovering yourself after having your spiritual identity prescribed for you by others in power over you. Reclamation Collective: web | reclamationcollective.com instagram | @reclamation...
May 11, 2022
x
14
01:03:16
86.91 MB
Wes Curtis, a fellow Hillsong NYC survivor with Nate, shares his story of entering Hillsong, how he deconstructed while part of the church, and what his exit was like. Follow us on Twitter at @fullmutuality, on Facebook at fb.com/fullmutuality, on Instagram at @fullmutuality, and on WordPress at fullmutuality.wordpress.com. Visit fullmutuality.com for more. Support Full Mutuality on Patr...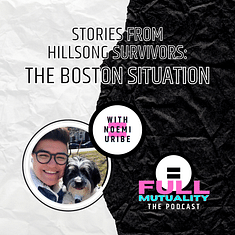 May 04, 2022
x
13
02:18:54
190.78 MB
Producer's note: This episode contains detailed discussions of non-consensual outing, mental health emergencies, and suicidal ideation. Listener discretion is advised. Noemi Uribe, who was interviewed for the documentary Hillsong: A Megachurch Exposed, joins Nate and Gail to tell their story of their time at Hillsong Boston, where they were subjected to a number of spiritually abusive si...